The Salisbury

based on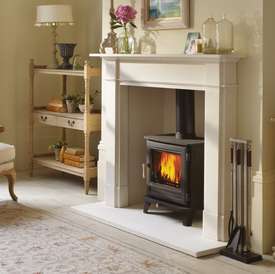 The Salisbury is a very plain and simple and suits a wide variety of interiors. The Salisbury is available in 5 models - The Salisbury 4, Salisbury 5, Salisbury 5 log store, Salisbury 6 and Salisbury 8.
Most Recent Review
Having bought a number of log burners the Salisbury is proving one of my regrettable buys. Problems with the damper , it seems to expand when hot and gets jerky, the removal of ashes and having... [ read more ]

Stove expert replied: Do check that the wood being burnt has a moisture content of less than 20% and keep the air controls open so that the glass can stay clean. Perhaps the damper arm / hole location gets too tight when hot and a slight modification could improve this operation, further investigation is recommended. All stoves will require ash removal - you do not say what the actual problem is with this on the Salisbury stove!
Most Popular Review
I only bought our Chesney Salisbury because we were so impressed by the sales team who assured us of the quality and performance of these stoves. They installed it and the installation cost almost as much as the stove itself. This is our 7th wood burning stove over 25 years, so we know how a good fire should perform and I am very sorry to say that this stove under-performs very significantly. I find I am using more wood than I did with my previous fire which was more than double the size! The glass door fogs up unless the slide is kept well open. The lack of an ash pan is a serious oversight as the mess this fire makes is quite amazing. The push in and out slide adjusting control is jerky in operation and is hence very difficult to regulate. All in all, I would love to install another stove but having spent close on £1,900 for the stove and installation, I simply don't have enough money left to burn!!!!... [ read more ]
More reviews for The Salisbury