Stratford TF90 stove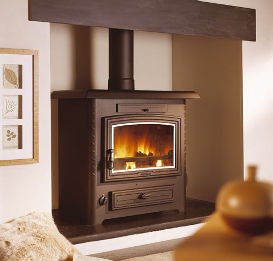 The Stratford TF90 stove is one of the biggest boiler models on the market -
this Stratford stove has a flat top & 1 plain door with glass in it.
The glass is kept clean by the airwash system.
This Stratford stove weighs 18kg & there is an optional stand available if you want to raise the height of the stove.
Technical Data
Height: 709mm
Width: 780mm
Depth: 546mm
Flue Diameter: 150mm
Fuel: Multi fuel
Most Recent Review
We installed this stove in a 15th century manor house in France. The house was somewhat draughty but the wood burner has been doing an excellent job for the past five years giving us plenty... [read more]

Stove expert replied: Burning wood overnight on a slow rate is not recommended as it can cause problems in the flue system, insure that regular fast rates of burn are undertaken to maintain the condition of the flue and do have it swept 2 - 3 times a year.
Most Popular Review
Great stove mine with back boiler. Good heat output providing the wood is hard wood and very dry. It can heat my 11 radiators in my cold bungalow and makes the whole house very cosy
More reviews for Stratford TF90 stove (page 1 of 2)
1