Stratford EB 25 HE

based on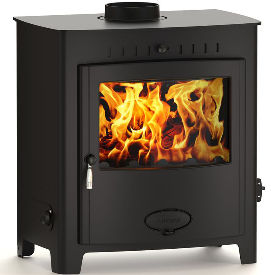 The largest in the range the Stratford EB 25 gives out up to an impressive 25kW of heat to water and 12kW to the room.
Technical Data
Height:

725mm

Width:

678mm

Depth:

489mm

Flue Diameter: 150mm
Fuel: Multifuel
Efficiency: 71.6%
Most Recent Review
Since 2006 had a Hunter 14 good stove but not boiler type. As they do not do a boiler model big enough as I have 18 radiators went for the 25HE after much research on internet. Fitted the latest... [ read more ]

Stove expert replied: Great review and sounds like you are warm and toasty!
Most Popular Review
We bought the stove in september and had it fitted by hetas approved engineers but right from the first week we had problems with it not heating radiators and not being able to control the burn... [ read more ]

Stove expert replied: If the stove is working hard and you are not able to shut is down it may be an over-drawing flue preventing the heat from going to the water. A flue damper or stabilizer can be fitted so that more control can be achieved and this would help to keep more heat in the firebox so that it transfers to the water effectively. Your installer should be able to advise further. It may also be worth trying smokeless fuel to see if the performance improves.
More reviews for Stratford EB 25 HE
is the Stratford he25 OK to connect to a pressurised system

Stove expert replied: Yes it is possible using a heat plate exchanger and a qualified heating engineer should be able to advise you further.

It is well built, huge firebox, easy to use and gives out plenty of heat to water and rads . My heating is zoned so when the water gets hot enough usually after thirty minutes my down stairs... [ read more ]