Stratford EB 12 HE stove

based on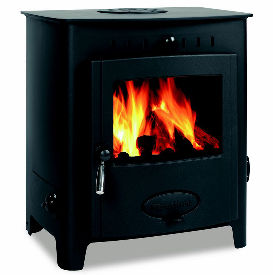 One of the Stratford boiler models -
giving 6kw to room -
and 9kw or 3900btu to water using wood
or
12kw or 41200btu using coal.
Technical Data
Height:

603mm

Width:

561mm

Depth:

412mm

Flue Diameter: 125mm
Efficiency: 71%
Most Recent Review
Just replaced open fire with Grants triple pass back boiler. Open fire heated 6 standard double radiators and 1 single, getting them to around 60 degrees.Had the Stratford EB12 installed and... [ read more ]

Stove expert replied: Did you have the heat load calculations carried out to check that the 12HE boiler is large enough to drive the system you have? The stove will give between 2 - 6kW's of heat to room so the average would be about 4kW. Have you an airbrick in the room? Is the chimney lined? What height is your flue system? The installation as a whole needs to be looked into so that you can ascertain if the stove is performing as expected or if perhaps you are asking it to do too much. The glass should not blacken with the air wash control fully open and hence my question about an airbrick. Was your flue draw checked to ensure it meets the manufacturers requirements. On what number are you keeping your thermostat? Further investigation suggested as it may not be the fault of the stove.
Most Popular Review
A nice looking stove but have fitted two in the last month. The one thing I will say is the heat to the rads is excellent getting 7-8 roasting hot rads, but absolutely no heat to the room. I... [ read more ]

Stove expert replied: It is always good to have a radiator in the room to insure that enough heat is generated as once the water and heating are up to temperature the stove will automatically close controlled by the thermostat.
More reviews for Stratford EB 12 HE stove (page 1 of 2)
1