Stratford EB 12 HE stove

based on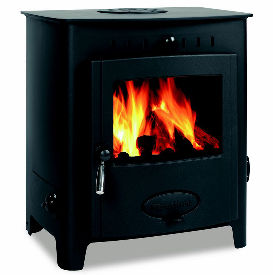 One of the Stratford boiler models -
giving 6kw to room -
and 9kw or 3900btu to water using wood
or
12kw or 41200btu using coal.
Technical Data
Height:

603mm

Width:

561mm

Depth:

412mm

Flue Diameter: 125mm
Efficiency: 71%
Most Recent Review
Overall we're happy, it's a LOT better than the back boiler we had with the open fire, and when our daughter complained that the house was hotter than at any time during her 21 years of existence... [ read more ]

Stove expert replied: The thermostat knob on the side of the stove is a sensor that measures the water temperature in the boiler jacket, it operates a flap behind the panel that will open and close automatically depending on what number it is set at. Therefore it will appear to have little resistance at times which is normal depending on the water temperature and the setting of the dial.
Most Popular Review
A nice looking stove but have fitted two in the last month. The one thing I will say is the heat to the rads is excellent getting 7-8 roasting hot rads, but absolutely no heat to the room. I... [ read more ]

Stove expert replied: It is always good to have a radiator in the room to insure that enough heat is generated as once the water and heating are up to temperature the stove will automatically close controlled by the thermostat.
More reviews for Stratford EB 12 HE stove (page 1 of 2)
1