Stovax Stockton 8 stove

based on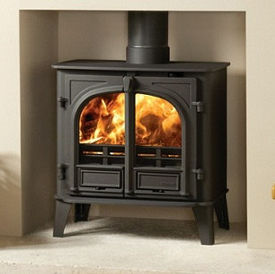 Stovax Stockton 8 stove is available in a wood or multi fuel version.
This range of stoves are clean burn & have got airwash.
Please note dimensions are for the Stovax Stockton 8 flat top stove -
there is also a low & high canopy option plus you are able to buy the stove with 1 or 2 doors.
Most Recent Review
Having had a wood burning stove ( Jotul No 3 ) for over 20 years we decided to upgrade our system and install a new stove with a boiler system to assist heating our house and water. Chose the... [ read more ]

Stove expert replied: If you are only using wood I would suggest investing in a wood tray as this will provide the best conditions for burning wood effectively and efficient and should overcome the problem of ash falling out when you open the door. A boiler stove will behave differently to a room heater only as the heat needs not only to heat the room but water as well, so getting used to the difference will take time to get to know the stove and settings required. Use wood that is dry and seasoned only (with a moisture content of less than 20%) damp wood will not give a good performance.
Most Popular Review
As a first time buyer, we did a lot of research into the various manufacturers and shortlisted 'Stovax'. Where we live everyone buys 'Clearview Stoves' (we are near to their main showroom,)... [ read more ]

Stove expert replied: and to make sure it is seasoned look for cracks in the ends grain, smell it (you will over time be able to smell wet wood), use a moisture meter. Or buy in cheap wet logs in the spring/summer and store them somewhere dry where the wind can get at em and you should have something useable by the winter.
More reviews for Stovax Stockton 8 stove