Stovax Huntington 40 stove

based on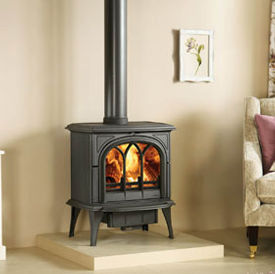 The Stovax Huntington 40 stove is available as a woodburning or multi fuel stove.
The multi fuel version has got an external riddling grate.
The Huntington glass door is available with clear glass or tracery door.
The stove is available in enamel finish - matt black, blue or green.
Most Recent Review
I have the multifuel version. The main problem is to run it slowly. I never use phurnacite or coal for fear of overheating. I even worry with small dry wood. The riddle mechanism always clogs... [ read more ]

Stove expert replied: The glass will not stay clean if you are closing down the air wash control. If the stove is always busy and will not shut down do have a flue draw test done to see if a damper or flue stabilizer is required.
Most Popular Review
I am afraid my experience of this stove is not a good one.After seven winter's use it now has a crack running right across the top plate and smaller cracks front to back. Also the glass is... [ read more ]

Stove expert replied: If you are operating a stove at too high a temperature damage will be caused to either cast iron or steel stoves, perhaps get a flue thermostat to insure that the operating temperature is within recommended limit. Vermiculite liners will require replacing and can also crack during use so again maintenance will be required on a regular basis.
More reviews for Stovax Huntington 40 stove (page 1 of 2)
1