Scanline 6 stove

based on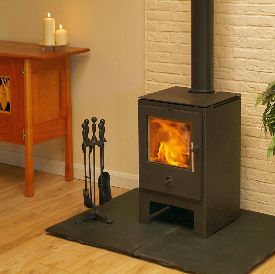 The Scanline 6 stove is a plain contemporary stove.
The Scanline 6 has one plain door with glass panel.
The body is square
&
the legs are relatively long.
The top of this Scanline model is flat and the output of the stove is less than 5kw -
so you do not need an air ventilation kit.
Technical Data
Height:

681mm

Width:

420mm

Depth:

391mm

Flue Diameter: 150mm
Fuel: Wood
Nominal Heat Output: 4.5kW
Efficiency: 84%
Most Recent Review
Good little stove. Glass stays very clean and gives out plenty of heat
Most Popular Review
I have been a stove user for many years and I find it hard to find fault in this lovely minimalist stove. Fantastically engineered and sooo controllable....just like a gas fire. A lovely flame... [ read more ]
More reviews for Scanline 6 stove
I used previous 'whatstove' reviews when deciding to buy this stove. So glad I did. Absolutely delighted with it. Very controllable and a log lasts a long time! Beautiful minimalist styling... [ read more ]

Stove expert replied: Feedback on buying a stove is invaluable! Take your time to choose a stove, it is worth every minute.

Had this stove for about a month now and I am delighted with it. Easy to use with great heat output. We do not burn it overnight so cannot really score on that. Firebox is not large but it... [ read more ]

As mentioned very easy to control especially for a newbie. The styling fits our suburban 30's semi perfectly. Like all stoves it is at its most efficient at maximum air flow/heat. Keep a good... [ read more ]

Stove expert replied: Stoves do need to work to maintain a clear flue but a slightly oversized appliance (for exceptionally cold conditions, say 2kW's larger than required) would be fine providing the fuel used is dry and well seasoned and short periods of fast burn are undetaken daily.