Scan Andersen 4-5 stove

based on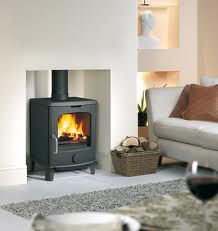 The Scan Andersen 4-5 stove is available with a cast iron top plate or a soapstone top plate. This stove has a firebox opening of 200 x 305mm.
Most Recent Review
The stove itself is great ; effficient and easy to operate.However I am now up to my third replacement glass in six years. The problem occurs when using solid , smokeless fuel ( Homefire)... [ read more ]

Stove expert replied: If the spiders web appearance gradually creeps over the glass then this is down to the stove not being operated at a fast enough rate of burn, not enough air is passing through it to remove the gases produced and so they stay in the firebox and cause a chemical reaction that shows on the glass. Short periods of fast burn will prevent this. The other stove may have a better flue draw hence it has not had the same fault develop. Homefire Ovals are fine for closed appliances but other Homefire fuels are not suited so do check that the one you are using is correct.
Most Popular Review
We fitted the Andersen 4-5 about three years ago in place of a 30-40's tiled fire & surround in our late Victorian house.Anyone thinking of replacing their open fire should just get on with... [ read more ]

Stove expert replied: Good feedback with helpful observations!
More reviews for Scan Andersen 4-5 stove (page 1 of 2)
1