Parkray Consort 15

based on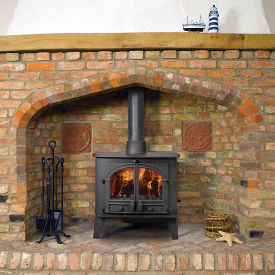 Parkray's largest stove, available with a high output boiler. Can be a flat-top stove or have a choice of 2 fitted canopies
Most Recent Review
I purchased a stove last year. The thermostat has never worked well. I've sent it back a few times now, and it is still not working. Every time I turn the thermostat it keeps flipping over.... [ read more ]
Most Popular Review
I bought oen of these stoves a couple of months ago. After 2 days paint on top flaked off. Supplier sanded down and re-sprayed. Still flaked off. Replacement sent from manufacturer - taken... [ read more ]
More reviews for Parkray Consort 15
The stove itself has a tremendous heat output and takes a really big log. You can boil a kettle on it if you have the flat top. I have even cooked on it during a power cut. Overall I am very... [ read more ]

Space for taking ash pan out too small very dangerous for elderly lady and does not allow enough air through when lit. Would like you to ring back to discuss matter

Stove expert replied: Seems a sorry tale for this model. Customer is now purchasing a thermostat to see if this helps, also advised to check if flue lined as this may be allowing the gases to cool too quickly! Have suggested contacting Parkray direct as supplier seems very unhelpful.