Parkray Aspect 5

based on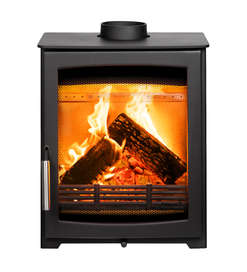 Parkray Aspect 5 is available as a standard, compact or slimline sizes giving flexibility to where you can fit this 5kW stove.
Technical Data
Height:

590mm

Width:

494mm

Depth:

422mm

Flue Diameter: 125mm
Fuel: Wood
Nominal Heat Output: 4.9kW
Efficiency: 79.1%
Most Recent Review
For the last 40 years the lounge of Grade II listed Mulberry House has enjoyed an open fire (a now obsolete Rayburn Rembrandt). With a free supply of wood from felled trees on our land, it... [ read more ]

Stove expert replied: Great review. Stoves are a great improvement to an open fire and efficiency wise there is no comparison.
Most Popular Review
Aspect 5 slimline fitted in September and it has the best ''fire picture'' we''ve ever had. It''s easy to light, excellent heat output, the glass stays clean and it looks superb. It''s also... [ read more ]

Stove expert replied: Great comments.
More reviews for Parkray Aspect 5
We had this installed in mid January to use just as a feature and for colder days to supplement our central heating. It is now February and I am on my third load of logs!I try and close down... [ read more ]

Stove expert replied: Running the stove on max should be used with care and for periods of 15 - 20mins only followed by a slower burning period. Depending on how long the stove is lit and on how large a load of logs you have needs to be clearer to say if normal or excessive. You will only get out of a stove what you put into it with regards to the fuel providing the installation falls between the normal parameters for the given stove.

I must have fitted 100 aspect 5s the only downer is the bolts to alter the feet are hard to get to but that is a fitter moaning. When I first saw the stove a year last June i said to my co worker... [ read more ]

Stove expert replied: High praise for this stove having fitted so many of them.

I fitted this stove in early November. I've had several woodburners over the years but never one that used wood as fast as this one. It doesn't seem to shut down properly as the controls are... [ read more ]

Stove expert replied: Do get the flue draw checked to insure that it is not above that recommended by the manufacturer. You may require a damper or stabilizer in the flue so that better control over the stove can be achieved in order for you to be able to control the rate of burn.