Newbourne 40FS stove

based on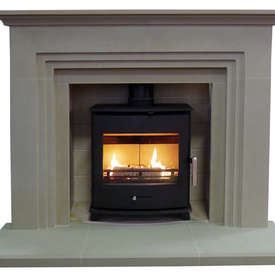 The Newbourne 40FS is the smaller version of the Newbourne 50FS stove. It is DEFRA approved from smoke control areas. The Newbourne 40FS has great controlability with both the primary and secondary air controls.
Technical Data
Height:

580mm

Width:

503mm

Depth:

374mm

Flue Diameter: 125mm
Nominal Heat Output: 4.5kW
Efficiency: 79.5%
Most Recent Review
The look of the stove is great , I have a couple of niggles , the glass is getting sooty even though this should be clearview. The second niggle is that I can constantly hear the air flow and... [ read more ]

Stove expert replied: Is the flue lined? Does the air flow noise continue if the controls are fully shut? It may be that the flue draw is excessive for this stove!
Most Popular Review
But when fire was installed a month ago was very impressed by the heat output , I live in a semi detached property with stairway and open plan living room , the heat from the fire heats the... [ read more ]
More reviews for Newbourne 40FS stove
Now we are into the winter months thought I would give update on the stove , Can't fault it no problems to report on stove Door handle etc I when it is up and running , you get a great heat from the fire as explained in last post Now that I have the experience of the air I controls I find the best setting for good burning to set the top & bottom air settings to 1/4 of an inch from shut This gives a good burn on logs , also when adding new logs place log on fire and leave door open slightly till log catches fire ,then shut door , but as said still very happy with this fire... [ read more ]