Morso Badger stove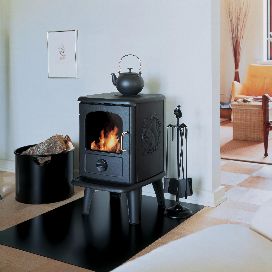 The Morso Badger is a Danish multi fuel stove with one door.
It is available as a convector model.
You can get longer legs for the Morso Badger and like all the cast iron Morso stoves the Badger has a 10 year body guarantee.
Technical Data
Height: 630mm
Width: 440mm
Depth: 512mm
Flue Diameter: 125mm
Fuel: Multi fuel
Nominal Heat Output: 5kW
Efficiency: 81%
Most Recent Review
Brilliant stove. Those Scandinavians certainly know what they are doing. It's easy to use and contrary to what Rodney Strain says, the airwash works brilliantly. OK, so it's dear, but you certainly... [read more]
Most Popular Review
I bought this morso 3112 badger stove in dec 07 and put it in my living room (5.5m-5m) and love it. I have since opened a shop to sell these stoves, because when i bought this stove everyone... [read more]
More reviews for Morso Badger stove (page 1 of 2)
Great stove, have had no problems. Not sure how to use as multi fuel as only using for wood at present. It is really lovely would buy again.

Stove expert replied: Great review.

Agree wholeheartedly with Michael Botham and others. This could be great little stove ... good-looking, very efficient, beautiful castings and overall build-quality, but is let down in a couple... [read more]

Stove expert replied: Disappointing problem with the grate and ash removal system.

Took a long time to decide which stove, but I am glad that we decided on this one, we also have Dunsley Highlander 8 in another room, but the Morso is easier to light, keep in and seems to give... [read more]

Stove expert replied: Take care not to stack your wood too close to the stove, it is combustible!!!

Superb stove. Heats up 2 rooms, one of which has a vaulted ceiling about 4m in height. There has been many a Dec/ Jan / Feb that we have had to open the windows to let the heat out. So happy... [read more]

Stove expert replied: Another great review for a Morso stove, amazing heat produced for such a small model.

I bought this as a replacement for a Squirrel which was moved to another room. It works mostly OK but there ase a few minus points. Once the door seal is bedded in, it no longer seals so the door rattles. The grate is wider than the pan, so some of the ash drops outside the pan. The seconday air control sits tight against the stove when turned clockwise, so you risk touching the stove when you need to move it. Tertiary air is uncontrolled, so you get a mini 'blast furnace' when there's a strong wind. It might work better with a chimney damper. Where the glass gets hottest it develops what look like little star like cracks which leave it looking dirty. Not as easy to start as a Squirrel as you cannot open the ash pan door on it's own to get a strong draft. On balance I think a squirrel is a better stove, maybe not quite as efficient, but without the drawbacks. ... [read more]

Stove expert replied: There appears to be an over-drawing issue in certain weather conditions which should be investigated further to prevent damage occurring to the stove. There should be adjustment on the door but if the rope has seated it will need replacement as this will add to the overdrawing problem.

Our second Morso Badger stove is on its second year of operation since installation and on the whole is operating 'nearly' as well as the older Badger model, which is still in use and problem... [read more]

Stove expert replied: May be good to try to adjust door to insure seal, liaise with Morso over this. If the stove affected by windy conditions a flue damper or stabilizer may be required to gain more control.

Bought ours to replace an open fire in an 80s built house. It is sooo much better than the open fire. Really like the simple look of this stove over the fussy traditional ones. The removable... [read more]

We purchased the Badger Convection Stove its expensive in comparison to some other that are on the market however with this stove you get what you have paid for.I reckon its one of the best... [read more]

Stove expert replied: Sounds a good stove with good control producing good heat.

this is our second morso stove. Started with a squirell upstairs which has been very good. Now fitted a morso badger 3112 downstairs. This stove is excellent value for money.got a great price... [read more]

Stove expert replied: Morso good solid stoves that give good value for money, good control and pleasing to the eye.
1