Morso Badger stove

based on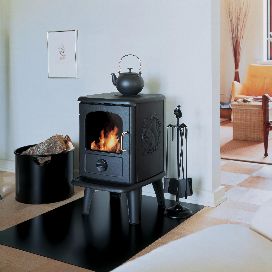 The Morso Badger is a Danish multi fuel stove with one door.
It is available as a convector model.
You can get longer legs for the Morso Badger and like all the cast iron Morso stoves the Badger has a 10 year body guarantee.
Technical Data
Height:

630mm

Width:

440mm

Depth:

512mm

Flue Diameter: 125mm
Fuel: Multi fuel
Nominal Heat Output: 5kW
Efficiency: 81%
Most Recent Review
bought and fitted in 2002 used for 8 months of the year. Price paid £750 used to heat a room 60 m2 / not often used on a high setting mostly medium. Can stay in all night if desired. fuel: Pure Heat / occasionally wood Parts replaced / 1 x glass Fire bricks are now cracked but still in place Riddling grate distorted and jammed, not replaced yet as a poker easily cleans the dust left behind from Pure heat Ash-pan does not quite catch all the ash but this is not a problem The stove still seals really well and can be closed right down if needed I have managed to accidentally let the stove 'rip' a few times after getting distracted after lighting. This was the cause of the riddling grate getting distorted The air wash system is OK but not brilliant, better with clean fuel The handle is a good positive motion but does get hot Benefit of the convector model is furnishing can be closer Obviously a very well made bit of kit that looks set to last a long time... [ read more ]

Stove expert replied: Good solid stove providing great service over many years.
Most Popular Review
I bought this morso 3112 badger stove in dec 07 and put it in my living room (5.5m-5m) and love it. I have since opened a shop to sell these stoves, because when i bought this stove everyone... [ read more ]
More reviews for Morso Badger stove (page 1 of 3)
1