Lovenholm stove

based on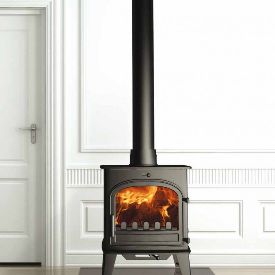 The Lovenholm stove comes in several variations, single door and double door as well as wood burning and multifuel The clean lines are typical of the Scandinavian style. With the multifuel stove you have a riddling grate, which you can change quickly to make it suitable for burning wood. This model has a 'cool-touch' handle in stainless steel. This sturdy stove sits on four legs and the large glass panel in the door gives a good view of the fire.
Most Recent Review
Lovely burner in looks and heat output. I have the single door log burner so good view of flames. The only gripe I have is the noctious fumes given off when burning. The installer said it would... [ read more ]

Stove expert replied: A stove, once the paint has cured should not produce any unpleasant smells so I would get the installation checked to ensure that there is nothing causing this (something too close perhaps to the flue system!). What fuel are you using and how hot are you operating your stove? It is a shame not to enjoy your stove and there will be a reason for this smell I am sure.
Most Popular Review
An efficient little stove, good value, quick and easy to light, burns and draws well.The only negative points are:i) the top airwash lever is a bit hit and miss - it's best to listen for the... [ read more ]
More reviews for Lovenholm stove (page 1 of 4)
1