Lovenholm stove

based on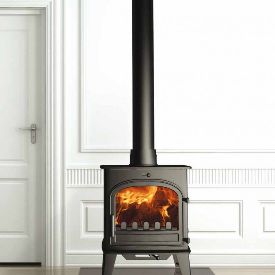 The Lovenholm stove comes in several variations, single door and double door as well as wood burning and multifuel The clean lines are typical of the Scandinavian style. With the multifuel stove you have a riddling grate, which you can change quickly to make it suitable for burning wood. This model has a 'cool-touch' handle in stainless steel. This sturdy stove sits on four legs and the large glass panel in the door gives a good view of the fire.
Most Recent Review
After doing a huge amount of research we had one of these installed in April. Our previous stove was a Morso Squirrel but our budget was tighter on this occasion. Reading the reviews on this... [ read more ]

Stove expert replied: Clean the glass with a cloth dipped in vinegar or wood ash, stubborn stains may need treating more than once. Do check the glass gasket and rope seals to make sure they are intact. Wood needs to have less that 20% moisture content and short periods of fast burn are required and should help to keep the glass clear. Clean out the inside of the stove thoroughly and drop the baffle / throat plate down to check that this does not have debris on it causing restriction of the flue gas flow. There is likely to be a cause if this was different when first installed so investigating and eliminating will need to be undertaken so that it can be rectified and clear vision can be once more achieved.
Most Popular Review
An efficient little stove, good value, quick and easy to light, burns and draws well.The only negative points are:i) the top airwash lever is a bit hit and miss - it's best to listen for the... [ read more ]
More reviews for Lovenholm stove (page 1 of 4)
1