Klover Smart 80 wood pellet cooker

based on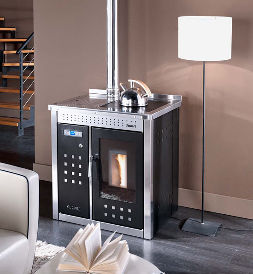 The Klover Smart 80 wood pellet cooker will heat the house and has a hotplate for boiling a kettle or cooking on.
Technical Data
Height:

875mm

Width:

790mm

Depth:

630mm

Fuel: Wood Pellets
Nominal Heat Output: 22.5kW
Efficiency: 90%
Most Recent Review
A massive improvement on our ancient oil fired Rayburn and oil fired boiler. Easy to clean and the top is good for slow cooking. Very efficient with surprisingly little ash for the amount of... [ read more ]

Stove expert replied: Restricted access can cause problems with many different fuel deliveries but thankfully pellets can come in clean 10kg bags which makes handling / moving much easier. Good feedback on the replacement cooker and boiler. Please note that there are hob covers available which can allow for better control on heating to room, directing heat to the heating system more effectively and will then also allow for a faster cooking facility on the hob as required.
Most Popular Review
Installed a Klover 80 3 months ago under the domestic RHI to replace and aged LPG fired range cooker/boiler. The Klover 80 looks good and works extremely well giving us the hot water and central... [ read more ]
More reviews for Klover Smart 80 wood pellet cooker
We had the Smart 80 installed last April under the RHI to replace a solid fuel Rayburn. Works effortlessly, utter timesaver compared to emptying the Rayburn ash pan out twice per day. Money... [ read more ]

Stove expert replied: Thanks for your honest review. When the boiler is running the flue gases are passed underneath the hotplate producing heat. This heat will always be emitted into the room. You can adjust the temperature of the hot plate by increasing or decreasing the power levels 1-5 (pressing buttons 5 and 6). This model is available with a hob cover if you thought that the heat to the room is too much.

The Klover Smart 80 replaced a Stanley Solid fuel stove. It was a lot of work keeping the Stanley going as I used a mixture of coal and wood in order to get the rads hot enough. Had to empty... [ read more ]

Stove expert replied: Great review. Labour saving as well as financial gain.

Installed this stove in April 2015 to replace an ancient coal fired Boski. It runs 12 radiators and heats our water very efficiently on demand. Much cleaner, conrollable and stylish than the... [ read more ]

Stove expert replied: Great review