Klover Smart 120 wood pellet cooker

based on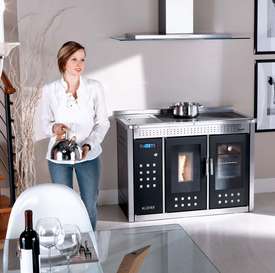 The Klover Smart 120 wood pellet cooker and boiler combines cooking and heating the house in one unit.
It is available as a contemporary model or a more traditional version and is now also available as a wood burning cooker stove providing an alternative to pellets. The Klover Smart 120 is RHI approved.
Technical Data
Height:

875mm

Width:

1200mm

Depth:

630mm

Flue Diameter: 1mm
Fuel: Wood Pellets
Nominal Heat Output: 22.5kW
Efficiency: 90.1%
Most Recent Review
I love the clover smart 120 efficient and very good to cook with however there is no light in the oven. which means you cant see how your food is doing in the oven. You have to be careful or... [ read more ]

Stove expert replied: This light issue will be requested for future stoves and a retro-fit option will also be discussed with the manufacturer. Nice comments regarding its efficiency with two tasks being carried out at one time.
Most Popular Review
We've had this in our kitchen for over two years now and we're really pleased with it. Before we heated our house with a log boiler, so my life has got a great deal easier now and our house... [ read more ]
More reviews for Klover Smart 120 wood pellet cooker