Klover PB 35 Utility Boiler

based on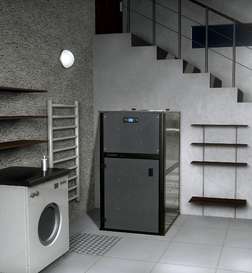 The PB 35 is a pellet stove that is dedicated to heating your hot water.

Technical Data
Height:

1380mm

Width:

730mm

Depth:

820mm

Flue Diameter: 100mm
Fuel: Wood Pellets
Nominal Heat Output: 34.4kW
Efficiency: 92%
We had a Klover PB35 installed in November 2015. From the outset, it has produced excessive smoke and soot. Despite several attempts by our installer to modify the flue and adjust settings,... [ read more ]

Stove expert replied: Smoke coming from the boiler during the ignition phase is quite normal due to the flame not being fully established. It is also quite normal to have smoke during the change over phases ie. ignition phase > start phase > work phase 1-5, as these phases are altering the rate of burn and can produce puffs of smoke until the phase is established. A pellet boiler will produce ash in the crucible, after all it is still a solid fuel appliance so this is quite normal. Before carrying out the cleaning or maintenance you should make sure that: -The boiler is off and has cooled down completely -The ash is completely cold -Before restarting the boiler make sure that the all parts that have been removed have been reassembled correctly Cleaning should be undertaken with a vacuum (there are stove vacuums available) to prevent ash from falling out of the crucible. There is a step by step guide that should be followed for this procedure in the manual provided with your boiler. The comments you have submitted would appear to be quite normal for the appliance.