Jotul F3 stove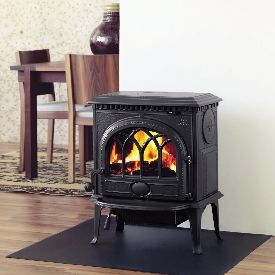 The Jotul F3 is a wood burner - the wood burns on a bed of ashes without an ash pan and grate.
This stove is available with a clear glass window or a lattice door.
You can have the Jotul F3 in enamel finishes.
There is an optional multi fuel kit available
&
there is a clean burn & a standard model.
Most Recent Review
Had the stove for two years and it performs superbly, heating several rooms, although the window does not stay clean (probably my fault). Jotul site gives good general advice but you have to... [read more]

Stove expert replied: 4.1 Replacing the Air Chamber Remove the door to avoid any damages to the glass or enamel. Disconnect the top plate of Jøtul F 3. This is connected to the side plates with 2 collar head screws - one on each side. See fig. 3. Remove these with the Allen key which are supplied with the stove. In the case of side/rear connection, the following should be done: Unscrew the heat shield (fig. 4B). It will then be possible to use a screw driver to keep in place the screw which is situated there. 2. Unscrew the nuts under the air chamber at the back edge (towards the back wall), one on each side (fig. 8). 3. The air chamber is fastened at the front to the side burn plates with the screws (fig. 9). These are loosened and the air chamber can then be lifted out from above. 1. In the case of top connection, the following should be done: • • Lift out the ash moulding (the log stopper). The air chamber is lifted out through the door opening with one hand, while at the same time flipping in and pulling out the one of the side burn plates. The air chamber may now be lowered diagonally and twisted out via the door opening. Assembly of a new air chamber Follow the same procedure in reverse order. Page 24 of the manual for servicing procedures.
Most Popular Review
More reviews for Jotul F3 stove (page 1 of 2)
1