Huntington 30 Stovax stove

based on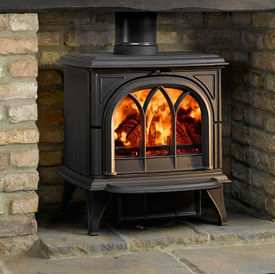 Huntington 30 stovax stove
Most Recent Review
We thought it would be a good well built and designed product but it''s not. Firstly the riddling grate clogs up in no time making it a useless feature. Secondly the ash pan is way to small... [ read more ]

Stove expert replied: Stovax have done what they said they would by calling you back, to make a charge to come out to inspect a fault is not uncommon with manufacturers and in some cases they do not have engineers so can't offer this service. The grate fowling may be down to the type of fuel used as they do vary greatly and perhaps an alternative should be tried. You state that it clogs up in no time, not really sure how long you mean, do you clear the stove out daily? Ash hoovers are readily available for removing any ash that fails to fall into the ashpan and the hearth is there for the very reason you explain to prevent ash from falling onto any combustible materials and should be made from a material that is easily cleaned.
Most Popular Review
This is my second stove, the first being a hase.The Stovax is solidly built and looks handsome in our inglenook. It does a first class job of heating our living room and heiping to heat the... [ read more ]
More reviews for Huntington 30 Stovax stove
We were persuaded to replace a perfectly good Jetmaster fire with the Stovax woodburner. What a mistake! It is poorly made, it is very difficult to control (either burns like a furnace or smoulders... [ read more ]

I have owned a enamel green Huntingdon 30 multi-fuel stove since Jan 2008 (5 years now). I have burnt wood most of the time (c.85%) and smokeless fuel for the remaining time. The stove looks... [ read more ]

We stupidly bought two Huntingdon stoves. They look great in situ but do not give off the heat that we were told they would. They do not stay in over night and therefore it costs a fortune to... [ read more ]

Stove expert replied: How sad that the stoves have failed to give you the expected heat. Did you get the installations checked, this is key to insure the heat generated goes where is should. It is not always the stoves fault!