Heta Inspire 40 stove

based on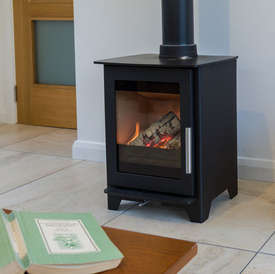 The Inspire 40 stove is a multi fuel stove with an nominal heat output of 4.5 kW. The stove is highly efficient at 81% and is also approved for smoke control areas.

Technical Data
Height:

585mm

Width:

460mm

Depth:

367mm

Flue Diameter: 125mm
Fuel: Multi fuel
Nominal Heat Output: 4.5kW
Efficiency: 81%
Most Recent Review
The stove is good. And gives out great amounts of heat. Instructions are poor. No reference to cleaning out the stove after use. No mention of riddling with the control lever provided .
Most Popular Review
I've had a few stoves in the past in previous properties and installed this one just over a week ago in my home. The stove looks great on the green tiled hearth I made for it . We were worried... [ read more ]
More reviews for Heta Inspire 40 stove
We had our Heta Inspire 40 installed two years ago when we bought our house. We had it professionally fitted making use of a disused fireplace and chimney, the house was built in 1929 when fireplaces... [ read more ]

Had this fire installed as restricted space. Pleased with look of fire and great when burning wood but had hoped it was multi fuel and wanted to burn anthracite. I have tried with not much success... [ read more ]

Stove expert replied: Perhaps try an alternative smokeless fuel as anthracite may not suit this stove, do leave the bottom air controls open and have a clear ashpan so that air can pass through the grate and fuel. Different fuels do burn at different rates so if you try a few you may find a more suitable product.

I installed it myself and I was able to find little in the way of instruction for doing so. I drilled a 5" hole straight through the wall at the back to fit the 4" semi-rigid aluminium pipe... [ read more ]

Stove expert replied: Running a stove on max should not exceed periods of 20 - 30mins at any one time, they do need to work but not flat out for prolonged periods. Ideally short periods of fast burn should be undertaken with a slumbering period in between. Wood that is picked from hedgerows should still be dried and used only when the moisture content is less that 20%. Finally as this is a self installation, do get it signed off by your local Building Control Office, this is important when a Hetas Engineer has not been used.