Franco Belge Savoy Classic stove

based on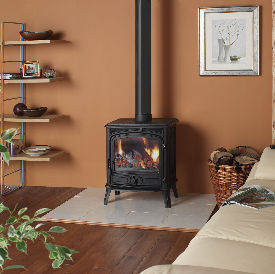 The Franco Belge Savoy Classic stove is a cast iron model with some relief work on the front.
\n
The Savoy Classic has one plain door with glass in the door and a relatively high output for a compact stove.
\n
The Franco Belge models are also available in enamel finish.
Most Recent Review
10 years old . Since installing always burning too hard, appears cannot be improved on..Top plate cracked last year agents condemned stove and said not to be used..Had two baffle plates since... [ read more ]

Stove expert replied: Two baffle plates in 10 years is not excessive. If always burning too hard then likely to be an over drawing flue and this is not the fault of the stove. This can be checked and should be undertaken if you are planning to replace the stove as similar may occur with the replacement if the flue draw is too high!
Most Popular Review
Overall a very pretty, well designed stove. There were some casting flaws, but only visual. Encountered major problem when top-plate casting cracked and Franco Belge would not stand by their... [ read more ]
More reviews for Franco Belge Savoy Classic stove (page 1 of 2)
1