Fireline FP5 stove

based on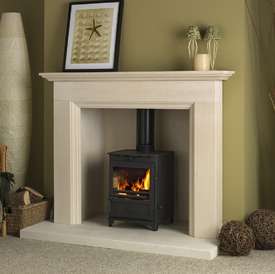 The Fireline FP5 is a 5 Kw Defra exempt stove. There are two models available; burning and multi-fuel. A 12mm hearth is okay if your burning dry wood, however - if you burn smokeless fuels you will need a smokeless kit.
Technical Data
Height:

522mm

Width:

365mm

Depth:

310mm

Flue Diameter: 125mm
Fuel: Multifuel
Nominal Heat Output: 5kW
Most Recent Review
Installed 4 weeks ago. Just burning wood. On our 3 rd use the glass on the door developed a huge brown burn mark which is not removable by any methods suggested here. The glass is burnt. We... [ read more ]

Stove expert replied: Have you gone back to your supplier to see if the glass could be looked at by the manufacturer? Marks should clean off if the correct fuels have been used and if the stove has been operated as per the instructions provided. Glass that will not clean can be caused by too little air going through the stove or indeed too much and the stove being overdrawn. Worth following up to prevent any further damage to the appliance.
Most Popular Review
I have been using this stove almost constantly for the last couple of months and I have to say it has met and exceeded all my expectations.It has been installed in place of an existing open... [ read more ]

Stove expert replied: Good review of this stove.
More reviews for Fireline FP5 stove (page 1 of 3)
1