Firefox 5 stove

based on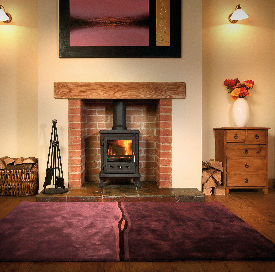 The Firefox 5 stove is a classic stove with a good view of the fire through the glass panel in the door.
Technical Data
Height:

575mm

Width:

405mm

Depth:

355mm

Flue Diameter: 125mm
Fuel: Multifuel
Efficiency: 78%
Most Recent Review
Can anyone helpHad my fire 2 years no issue or no problems then one day tried to open the door as the handle just kept going round and round so could not open it. Ordered a new complete handle... [ read more ]

Stove expert replied: This seems very strange, the locking mechanism should prevent it from turning round completely unless something has happened with the door opening. When tightly fitted the handle and lock should only turn enough to open the door. Sorry I do not have any specific advice to give regarding this problem.
Most Popular Review
Good stove for the money, But if i was to buy again i would spend a wee bit more and buy a morso or woodwarm for more efficience and control features as my two friends have one of each and... [ read more ]
More reviews for Firefox 5 stove (page 1 of 7)
1