Firefox 5 stove

based on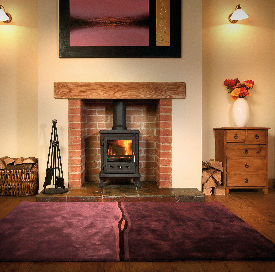 The Firefox 5 stove is a classic stove with a good view of the fire through the glass panel in the door.
Technical Data
Height:

575mm

Width:

405mm

Depth:

355mm

Flue Diameter: 125mm
Fuel: Multifuel
Efficiency: 78%
Most Recent Review
The burn in my stove is viscous and I cant really shut it down. To combat this I've just stuck a piece of fire rope in the clean burn tucked into the top. That's really helped and made it really... [ read more ]

Stove expert replied: If your Firefox is the CB (Defra Approved) version then the air control has a restriction on it to prevent it from fully closing. This is rrequired to enable the stove to comply to the smoke control regulations. If the stove is not a clean burn model and it is busy at all times (may be worse in windy conditions) then a damper or stabilizer on the flue should help to get better control. Do get the liner checked as the next door neighbour should not be able to smell your stove when burning, this should be looked into as a matter of urgency as the gases that are produced when being operated are poisonous.
Most Popular Review
Good stove for the money, But if i was to buy again i would spend a wee bit more and buy a morso or woodwarm for more efficience and control features as my two friends have one of each and... [ read more ]
More reviews for Firefox 5 stove (page 1 of 7)
1