Firefox 5 stove

based on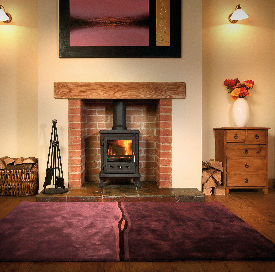 The Firefox 5 stove is a classic stove with a good view of the fire through the glass panel in the door.
Technical Data
Height:

575mm

Width:

405mm

Depth:

355mm

Flue Diameter: 125mm
Fuel: Multifuel
Efficiency: 78%
Most Recent Review
We've bought a dark brown enamel version of the Firefox 5 about 3/4 years ago and it's still going strong. We use it quite a lot and at times had it on for days on end. Admittedly the enamel... [ read more ]

Stove expert replied: The wood conversion kit should be something that you can undertake, it will mean removing the grate system and slotting in a wood tray. Have you checked the seals as this can lead to the stove being less controllable and then lead to overheating and hence cracking of the stove casing.
Most Popular Review
Good stove for the money, But if i was to buy again i would spend a wee bit more and buy a morso or woodwarm for more efficience and control features as my two friends have one of each and... [ read more ]
More reviews for Firefox 5 stove (page 1 of 7)
1