Firefox 5 stove

based on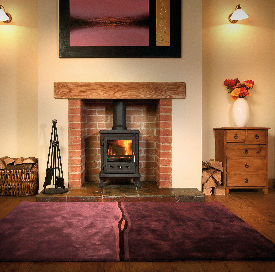 The Firefox 5 stove is a classic stove with a good view of the fire through the glass panel in the door.
Technical Data
Height:

575mm

Width:

405mm

Depth:

355mm

Flue Diameter: 125mm
Fuel: Multifuel
Efficiency: 78%
Most Recent Review
MY FIRE BAR AT FRONT OF STOVE THAT KEEPS COAL IN HAS SUDDENLY STOPPED FITTING INTO THE SLOTS IT GOES INTO ANY IDEAS WHYALSO THE HANDLE YOU USE TO SHAKE COALS AND ASHES IS STUCK SOLID CANNOT... [ read more ]

Stove expert replied: Has the bar become distorted which is preventing it locating in the stove? When you clean the stove out can you see any small pieces of fuel or distortion to the grate system which is preventing it from moving. Does the stove operate with a steady flame picture or is it burning vigorously? If it is burning hard the flue draw may be excessive and a damper or stabilizer may be required to gain better control. Smokeless fuels can be used on the stove but not household coal, if you have been burning coal then this may have caused some distortion to the internal parts that are giving the problems that are being described.
Most Popular Review
Good stove for the money, But if i was to buy again i would spend a wee bit more and buy a morso or woodwarm for more efficience and control features as my two friends have one of each and... [ read more ]
More reviews for Firefox 5 stove (page 1 of 7)
1