Firefox 5 stove

based on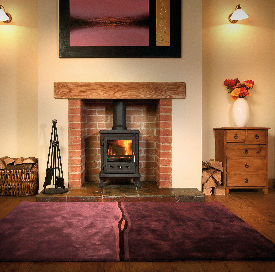 The Firefox 5 stove is a classic stove with a good view of the fire through the glass panel in the door.
Technical Data
Height:

575mm

Width:

405mm

Depth:

355mm

Flue Diameter: 125mm
Fuel: Multifuel
Efficiency: 78%
Most Recent Review
Have had the Firefox 5 for just over a year now & it always surprises me how quickly it lights & gets up to temp! Opening size can be tight for decent chunks of timber but that's a minor issue... [ read more ]

Stove expert replied: Is the stove the Defra Approved model as if so there is a restriction on the top air control that prevents it from shutting fully and will mean that it burns faster than a standard model. If the flue draw is excessive and greater than the manufacturers suggested amount then a flue damper or flue stabilizer can be added, this will give better control over the stove draw which will allow the heat to stay in the stove longer rather than being sucked out of the firebox quickly. Your installer should be able to test to see if this is the case.
Most Popular Review
Good stove for the money, But if i was to buy again i would spend a wee bit more and buy a morso or woodwarm for more efficience and control features as my two friends have one of each and... [ read more ]
More reviews for Firefox 5 stove (page 1 of 7)
1