Firefox 5 Cleanburn stove

based on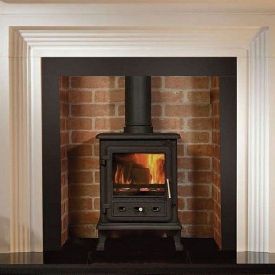 The Firefox 5 defra approved is for a smokeless area.
This model is a wood burning stove only.
It has 1 plain door with glass for viewing the fire.
The measurements are a little different to the Firefox 5 multi fuel model.
Technical Data
Height:

560mm

Width:

450mm

Depth:

395mm

Flue Diameter: 125mm
Fuel: Multifuel
Nominal Heat Output: 4.9kW
Efficiency: 78%
Most Recent Review
I've installed both a 5.1 & 8.1 Firefox cleanburn in my home, really pleased with them and would recommend them to anyone wishing to install one in there home. The only thing for me is as mine... [ read more ]

Stove expert replied: The Defra Approved models have this adjustment on the air control which makes them comply due to the flue gases always being diluted by the air passing through the stove, These can't be removed I'm afraid.
Most Popular Review
You can't keep it going overnight because I have the clean burn version, but no problem. The door handle gets too hot to touch which is annoying, but not a big problem, manufacturers should... [ read more ]

Stove expert replied: I recommend keeping an oven glove by the fire when operating the stove so that using the handle does not pose a problem.
More reviews for Firefox 5 Cleanburn stove (page 1 of 2)
1