Esse Montrose stove

based on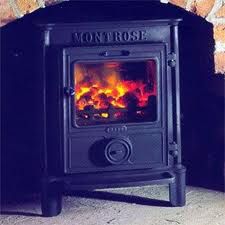 The Esse Montrose is a distinctive little stove. There have been several versions of the Montrose, the Mk1, Mk2 and Mk3.
Technical Data
Height:

545mm

Width:

405mm

Depth:

355mm

Flue Diameter: 125mm
Fuel: Multifuel
Most Recent Review
We have had this stove for around 16 years, the heat is great and was very happy with it, however I am now unable to light it as whenever I do the smoke fills the room. I have tried different... [ read more ]

Stove expert replied: As this is a recent change please check that the internal parts are back in correctly and nothing is wrong with them (distorted baffle perhaps!). If nothing obvious here, check that no trees have grown that could be changing the way the smoke leaves the flue system (altering the wind direction), Have you added double glazing or cavity wall insulation to the property that could be affecting the free air that is in the room where the stove is sited, if so you may need an air vent to correct this..
Most Popular Review
More reviews for Esse Montrose stove
I have a very old montrose stove I was told its over 100 yeasrs old ??on the sides it has engraving with a picture of a blacksmith in the woods working a forge; anyone know this stove ? Ps its... [ read more ]

our little Montrose has done us proud, thick cast iron that retains its heat, if I move I will stick a Firefox 5 in its place & take it with me, we love it

Stove expert replied: Great review.

We have had our stove now for 10 years and it looks like new, the heat that comes from it is amazing it warms the whole house and is very controllable, we have the teapot brown model, very classy... [ read more ]