Esse 500 stove

based on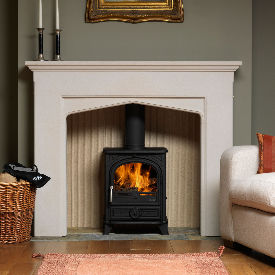 The Esse 500 is a multi fuel stove.
This model has a 5kw output & has 1 plain door with glass in it -
the glass has a curve on the top edge & secondary air wash system to keep it clean.
Some Esse stoves are cast iron while others are a mixture of steel & cast iron.
Technical Data
Height:

545mm

Width:

428mm

Depth:

348mm

Flue Diameter: 125mm
Fuel: Multifuel
Efficiency: 80%
Most Recent Review
The Esse is OK until I load the fuel, then I open the door and its still OK until new fuel is added. This smokes and comes out of the door and into room and stinks the room out.
Most Popular Review
Bought the stove from a well known on line retailer. Took 2 months for Esse to get the door/grate tool & glove to us. After purchase realised that multifuel means coal + the occasional log.... [ read more ]
More reviews for Esse 500 stove (page 1 of 2)
1