Esse 500 stove

based on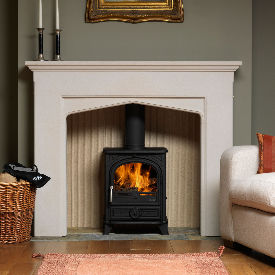 The Esse 500 is a multi fuel stove.
This model has a 5kw output & has 1 plain door with glass in it -
the glass has a curve on the top edge & secondary air wash system to keep it clean.
Some Esse stoves are cast iron while others are a mixture of steel & cast iron.
Technical Data
Height:

545mm

Width:

428mm

Depth:

348mm

Flue Diameter: 125mm
Fuel: Multifuel
Efficiency: 80%
Most Recent Review
The Esse is OK until I load the fuel, then I open the door and its still OK until new fuel is added. This smokes and comes out of the door and into room and stinks the room out.
Most Popular Review
This was our first stove and initially we loved it. It looked great and was easy to light and control. We found wood caused a lot of soot/tar to form on the window so we used mainly solid fuel... [ read more ]

Stove expert replied: Very surprised by this experience, Esse is a well established manufacturer, it did take several years for the failure. Difficult to explain why, I have not heard of similar experiences.
More reviews for Esse 500 stove (page 1 of 2)
1