Dovre 2700 stove

based on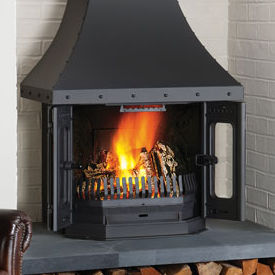 The Dovre 2700 is the bigger of the 2 wood burning models in this series.
Like the other Dovre stoves the body is made of cast iron and the canopy is made of steel.
The 2 doors on the Dovre 2700 can be folded back to the sides of the stove forming a big fireplace opening -
thus designed to run with the doors open or shut.
Technical Data
Height:

920mm

Width:

725mm

Depth:

540mm

Flue Diameter: 200mm
Fuel: Wood burning
Efficiency: 77%
Most Recent Review
I have owned one of these for some years, fitted with a back boiler to heat domestic hot water. The glass lining of this eventually failed, leading to dirty, rusty hot water. Dovre simply informed... [ read more ]

Stove expert replied: You do not state how long you have had this stove and the glass lining on the boiler failure is disappointing. Good to hear that it does genersate the heat required though.
Most Popular Review
Purchased this stove to heat a good sized room. Disappointing from the day it was installed. Phoned so many times to the manufactures for advice etc who told me it was the wood, I wasn't lighting... [ read more ]
More reviews for Dovre 2700 stove
A nice looking stove, but if you buy it with the plinth and hood kit i.e. when it looks great. Then it does not heat well. The convector is largely covered and it fails to provide the heat it... [ read more ]

Stove expert replied: Do not undertake any modification to a stove unless you are prepared to invalidate the warranty. It seems in this case the change has made a big difference.

If you want a fire place that you can safely leave this fire is fine but it is not an efficient wood burner. The heat out put is rated at 10kw I never achieved more than 3kw with the doors shut... [ read more ]

Stove expert replied: I think that in this case it sounds like the retailer should really have explained the type of stove which the 2700 stove is to this reviewer. This stove (and the others in the 2000 range) are a mix between an open fire and a stove. Open the doors and you have an open fire, close them and you have a more efficient stove. Yes if you want an efficient stove then go for something else. In this case I do think that it is not that 2700 is bad in any way - it is just that the reviewer was not told what to expect.

This is a lovely looking stove, and if you're looking for something that will look great but don't necessarily need the heat, then you'll love it. We live in an old thatched cottage with no... [ read more ]

Stove expert replied: Yes the Dovre 2000 is a fireplace / stove hybrid and is probably not as efficient as a freestanding stove, especially not if burnt with the doors open. If you want serious heat like this person then perhaps consider an insert stove as you will still get the large window and opening, but will still have an efficient stove.