Dovre 1800 stove

based on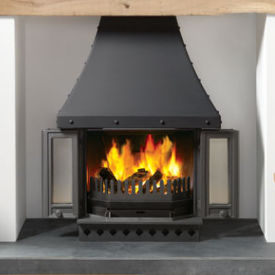 The Dovre 1800 is a wood burning stove in the 2000 series.
This is the smallest of the models.
There are 3 different canopies available for this model - small, medium and large.
There is an optional plinth.
The 2 doors on the Dovre 1800 stove can be folded back against the side of the stove -
so that the stove is designed to be able to run with the doors open or shut.
Technical Data
Height:

690mm

Width:

530mm

Depth:

450mm

Flue Diameter: 150mm
Fuel: Multi Fuel
Efficiency: 80%
Most Recent Review
great stove - gives you best of both worolds, love having the doors open and folded back to enjoy an open fire or with doors closed for more efficient burn - we bought it as our inglenook was... [ read more ]
Most Popular Review
Perfect for an inglenook and offers an excellent compromise between a stove and an open fire. Open the doors and fold them back, and enjoy the open fire, whereas close the doors and close the... [ read more ]
More reviews for Dovre 1800 stove
It doesn't have airwash and i've never kept it in overnight.It is very efficient and warms our room up quickly(5mx5m). Burns slower with doors open