Defiant 1610 woodburning stove

based on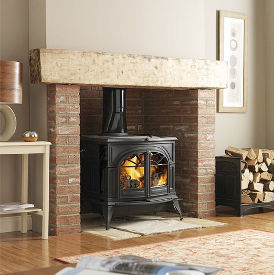 The Vermont Defiant is a top and front loading enamelled stove, available in a full range of colours. There is the option of a sparkscreen for open door viewing. An oval to round flue adaptor is required for installation.
Technical Data
Height:

733mm

Width:

822mm

Depth:

483mm

Flue Diameter: 200mm
Fuel: Wood
Nominal Heat Output: 9.5kW
Efficiency: 77.5%
Most Recent Review
The catalyst kept going wrong and needed cleaning, it was a regular dismantle job to get to it, usually resulting in at least one broken firebrick. We went through three catalysts at £100 a... [ read more ]

Stove expert replied: This is very unusual to have so many catalyst failures, these stoves are normally very reliable. It can take some time for the parts to be shipped to the UK but being infrequently required may be the reason that stock is not kept for replacements and hence the wait. Warping of a stove is normally due to overfiring or using the incorrect fuel in it.
Most Popular Review
I bought this stove a couple of years ago to heat a very large open area, and it is absolutely superb. The heat output is so great that it usually heats the upper floor of the building as well... [ read more ]
More reviews for Defiant 1610 woodburning stove
Beautiful looking stove. Fantastic build quality and attention to detail. A monster of a stove that generates so much heat, but can be controlled in an instant. Heats a room 40 ft high, 30ft... [ read more ]

Admittedly our stove was bought over 10yrs ago but, assuming the technology hasn't changed, we have very mixed views. I think it is the best looking stove on the market and I like the ability... [ read more ]

Having owned several well known make this is by far the best. We have had it for 4 years now and is still good as new. It is an excellant stove and has an good wood to heat output racio and... [ read more ]