Clearview vision 500 stove

based on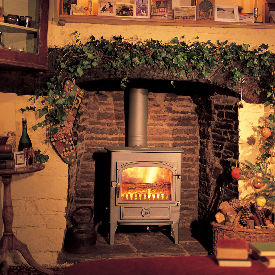 The Clearview vision 500 stove is available as a flat top, low canopy or high canopy model.
The legs can be 2,4 or 6 inches on this Clearview stove.
The Vision 500 is available with multi fuel kit for burning coal
and
a smoke control kit to use in smokeless areas.
You can get the Clearview stoves in coloured finishes too.
Technical Data
Height:

588mm

Width:

582mm

Depth:

330mm

Flue Diameter: 150mm
Fuel: Multifuel
Most Recent Review
It is 14 years since we installed our Clearview Vision 500 stove to heat our 3mtr x 7mtr living room, and heat the domestic water and 2 small radiators from the small back boiler. In the time... [ read more ]

Stove expert replied: Most closed appliances (Stoves) use smokeless fuel and not household coal this is due to coal being a dirtier fuel, it burns with a longer flame and can distort internal parts. Being a dirtier fuel is often prevents the airwash from working effectively. Great long term service from this appliance.
Most Popular Review
Installed the Vision 500 about 10 years ago, at that time the airwash was quite a new twist on an old idea. On first installing the stove we had fumes creeping through the joints in the chimney... [ read more ]

Stove expert replied: Replacement rope is expensive but important to the working of a stove, think of it as a genuine spare for a car. It is not only the diameter of the rope but the density as well and this is a trade secret to each manufacturer.
More reviews for Clearview vision 500 stove (page 1 of 10)
1