Clarke potbelly stove standard size

based on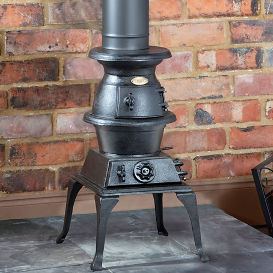 The standard sized Clarke potbelly stove is a traditional small potbelly stove.
Most Recent Review
Very poor quality stove. The stove needs to be almost constantly fed with wood because the burn-rate cannot be controlled due to leaks.

Stove expert replied: Check the flue draw as it may not be the stove at fault!
Most Popular Review
Cheap black finish burns off right away good for heating vans sheds ect. this thing will never burn over night has to be topped up around every 30min.The unit sucks in far to much air even with... [ read more ]

Stove expert replied: As with many things you often get what you pay for when it comes to stoves. As long as you realise this when purchasing then the cheaper end of the market does of course have its place, just don't expect it to perform as well as a higher end model.
More reviews for Clarke potbelly stove standard size