Charnwood Country 4 stove

based on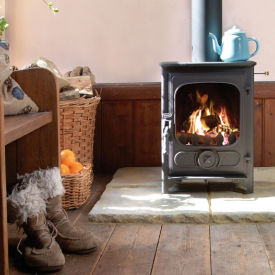 The Charnwood Country 4 stove is available as a wood or multi fuel stove.
You can get an optional small back boiler - big enough to heat domestic hot water and max 1-2 radiators.
You can get the Charnwood Country range in coloured finishes
&
This model has 1 door with plain glass in it.
Technical Data
Height:

545mm

Width:

416mm

Depth:

242mm

Flue Diameter: 125mm
Fuel: Multifuel
Nominal Heat Output: 4kW
Efficiency: 76.8%
Most Recent Review
Looks lovely. Great heat and control of heat level. There is one horrible problem - THE THROAT PLATE. The What? The heavy metal plate that forms the roof of the stove. The instruction manual... [ read more ]

Stove expert replied: If you did not get the tool that is talked about in the manual do go back to the supplier to request one. The throat plate seems to come down to sit above the back liner and there should be some retaining lugs on the side of the stove for it to locate onto and be held in its working place, when dropped down the debris should be able to be removed without taking it out of the firebox. If you need to remove totally then remove other internal parts that may restrict the opening ( fuel retainer etc) and bring the throat plate through in a diagonal position.
Most Popular Review
I've being using my Charnwood Country 4 (made in England on the Isle of Wight) for a couple of months now, almost daily; often twice daily. It's very simple to use, easy to light and more controllable... [ read more ]
More reviews for Charnwood Country 4 stove (page 1 of 5)
1