Charnwood Country 4 stove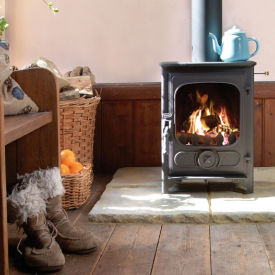 The Charnwood Country 4 stove is available as a wood or multi fuel stove.
You can get an optional small back boiler - big enough to heat domestic hot water and max 1-2 radiators.
You can get the Charnwood Country range in coloured finishes
&
This model has 1 door with plain glass in it.
Technical Data
Height: 545mm
Width: 416mm
Depth: 242mm
Flue Diameter: 125mm
Fuel: Multifuel
Nominal Heat Output: 4kW
Efficiency: 76.8%
Most Recent Review
I visited many showrooms and friends with burners before deciding on the Charnwood Country 4. This one appeared to be good value and made in the UK as well - everyone warns to avoid the cheap... [read more]
Most Popular Review
I've being using my Charnwood Country 4 (made in England on the Isle of Wight) for a couple of months now, almost daily; often twice daily. It's very simple to use, easy to light and more controllable... [read more]
More reviews for Charnwood Country 4 stove (page 1 of 4)
Of all the stoves in all of the world, I am glad I chose this one. A lot of research went into this, 6 months use and I made the right decision. Very pleased.

The Charnwood Country 4 (wood only) stove is a reasonably priced, well built British stove with unfussy styling, a large glass door and a convenient wooden handle. It is a sensible choice for... [read more]

Stove expert replied: The shopping list at the bottom of this review gives you the extras required to provide you with the best chance of getting the most out of your stove.

I believe that it was Charnwood but a large two doored stove which kicked out a great deal of heat, good for a very large room in a house built in the 1600's. It was a listed building with incredibly... [read more]

I bought the C4 the updated version of the Country 4, we are having problems with keeping the windows clean though we have followed the instructions and done what Charnwood advised, can anyone... [read more]

Stove expert replied: Start with the airwash fully open, use dry seasoned wood with 20% or less moisture content and once the fire is established start to close the airwash little by little so that you guage where it stops keeping the glass clean.

Admittedly this is the first stove we're ever bought but as far we can tell it is excellent and we're not sure how it could be better for a stove of its size. As you can see from our ratings... [read more]

Stove expert replied: Anthracite is one of the hotter fuels so if using do not over riddle the stove, try to leave a small bed of ash to protect the grate and make sure that the ash pan is emptied at least twice a day.

Bizarrely, the shop where we bought this from didn't recommend it and said it wasn't good quality. It has, however, turned out to be a gem! On the downside, It isn't made from cast iron so it... [read more]

Stove expert replied: Good feedback for this stove, working well and producing lots of heat!

My brother recommended and installed this stove for us, he owns HeatAsh www.heatash.com He recommended it as it was small and efficient. Even he was surprised by the heat output of this little... [read more]

Stove expert replied: Great review.

Had the stove for 4 years. Overall its been a good source of heat but not without its problems which is odd as I have not heard of other stoves with the same amount of problems and I did my... [read more]

Stove expert replied: Nice to hear that the company provides good customer service.

This is a fantastic little stove. I have no central heating and my house is heated by a morso squirrel and this charnwood. It's throws out so much heat on just a couple of logs, quick to light... [read more]

Stove expert replied: Great to get feedback from a customer with two stoves so that a fair comparison can be made.
1