Charnwood Country 16 b stove

based on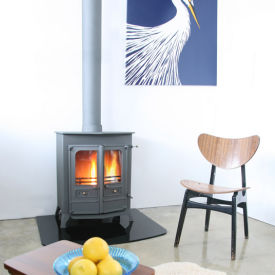 The Charnwood Country 16 b stove is a high output central heating model available in as a wood burning or multi fuel stove.
There are many coloured finishes
&
you can add a canopy to the flat top model.
The Country 16b has got 2 doors with plain glass in them
&
there is an angle on the front of the stove - making it easy to recognise the Charnwood models.
Technical Data
Height:

750mm

Width:

601mm

Depth:

460mm

Flue Diameter: 150mm
Fuel: Multifuel
Efficiency: 74.6%
Most Recent Review
Fitted a Charnwood 16b back in September 09. Tended to use smokeless fuel rather than wood. When used 24/7 during the winters of 09/10. Kept the house warm, plenty of hot water for the two of... [ read more ]

Stove expert replied: Clearing the ash from the ash pan will help to maintain the grate system this should be done twice daily, also leaving a small bed of ash on top of the grates helps so do not over riddle the stove.
Most Popular Review
I would not recommend this stove to anyone.We bought and installed the stove4 months ago and from the beginning we have had problems. i.e. it overheats the room BUT it does not heat the radiators... [ read more ]

Stove expert replied: The 16B does give a relatively high heat output to the room in which it is installed - up to about 7kW to the room when burning wood. This is in contrast to many other boiler stoves which tend to give between 2 and 5kW to the room, even bigger stoves than this one. It sounds like the incorrect stove was specified for the heat load of the room - this person would probably have been better off with another type of stove.
More reviews for Charnwood Country 16 b stove (page 1 of 2)
1