Carron enamel stove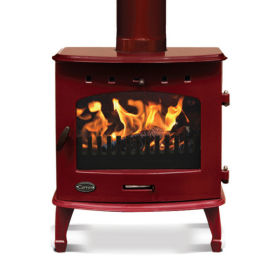 The Carron cast iron stove is available as the conventional matt black or in a range of coloured enamel finishes.
Most Recent Review
We have had several good stoves in the past but have been disappointed by the performance and build quality of this Carron 4.5kw stove. The door seals do not align properly with the rim of the... [read more]

Stove expert replied: Usually there is some adjustment for the doors to realign them. Seals can be replaced if worn or seated. A flue damper may help to control the draw so that you get a better fuel consumption.
Most Popular Review
This is a lovely stove and very good value - it kind of contemporary but with the bulk of a proper stove, throws out lots of heat and the glass stays clean with seasoned wood. I looked everywhere... [read more]
More reviews for Carron enamel stove (page 1 of 2)
1