Broseley Winchester Multifuel Stove

based on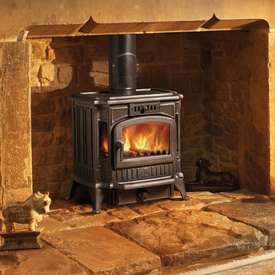 The Broseley Winchester multifuel fuel stove is an 8kW tradition burner with a large firebox and side viewing windows to add an additional feature.
Technical Data
Height:

605mm

Width:

600mm

Depth:

520mm

Flue Diameter: 125mm
Fuel: Multifuel
Efficiency: 80%
Most Recent Review
We have had this Broseley stove for a year now. In that time it has burnt through two cast iron grates. The manufacturer claimed, without any investigation, that it was because we were over... [ read more ]

Stove expert replied: Are you over riddling the stove? Do try to leave a bed of ash to protect the grate and once you have riddled remove the hot ash, do not let it build up in the ashpan. Anthracite is one of the hottest fuels and can cause a shortening life span of internal components. Internal components are classed as consumable so are not covered under warranty.
Most Popular Review
We got fed up with all the heat from an open fire going straight up the chimney, so after looking at a lot of much more expensive stoves we bought one of these for about £650 delivered.What... [ read more ]