Broseley Hercules 30b boiler stove

based on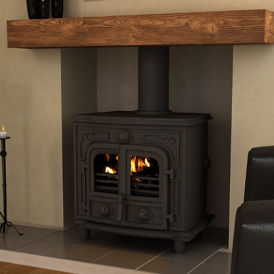 The Hercules boiler stoves come in 3 sizes to suit different output needed.
They have a built in wrap around boiler and the stove has a traditional look.
The front of stove has 2 glass doors and the flue can come out of the top or back.
Most Recent Review
I purchased one of these stoves about 7 years ago. In that time I've cracked 3 lids. It costs £379 pounds to replace it. That's with delivery. I'm gutted. I bought it with the intention... [ read more ]

Stove expert replied: Replacement parts will be required during the lifetime of any stove and by lid I am assuming you are referring to baffle plate which is subjected to the greatest heat when the stove is operating. Failure of these plates can be due to over-firing, incorrect fuels and even a strong draw on the flue system so further investigation would be advised to try to identify the cause of the failures. As you have had 3 in 7 years they are lasting over 2 years each which does not necessarily seem excessive though!
Most Popular Review
we have this stove now 3 yrs and its the best thing ever, I wanted the 20 b but was delivered the 30 b by mistake and came to an arrangement with supplier in price. I have to say the 20 b would... [ read more ]

Stove expert replied: As this is a bigger boiler that you wanted please make sure that you do operate it for short periods on max temperature as stoves should not slumber for prolonged periods as it can lead to flue problems. Nice feedback though!
More reviews for Broseley Hercules 30b boiler stove