Broseley Hercules 30b boiler stove

based on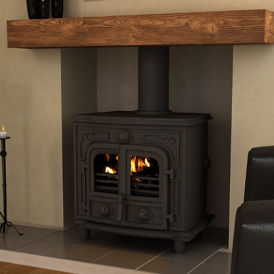 The Hercules boiler stoves come in 3 sizes to suit different output needed.
They have a built in wrap around boiler and the stove has a traditional look.
The front of stove has 2 glass doors and the flue can come out of the top or back.
Most Recent Review
Talking about our Hercules multi-fuel with boiler, not the other half, only thing we have replaced is a glass (that I broke) and a bit of the rope in the doors! (that some sticky stuff pulled... [ read more ]

Stove expert replied: Great review for a hard working stove.
Most Popular Review
we have this stove now 3 yrs and its the best thing ever, I wanted the 20 b but was delivered the 30 b by mistake and came to an arrangement with supplier in price. I have to say the 20 b would... [ read more ]

Stove expert replied: As this is a bigger boiler that you wanted please make sure that you do operate it for short periods on max temperature as stoves should not slumber for prolonged periods as it can lead to flue problems. Nice feedback though!
More reviews for Broseley Hercules 30b boiler stove