Broseley eVolution 26 boiler stove

based on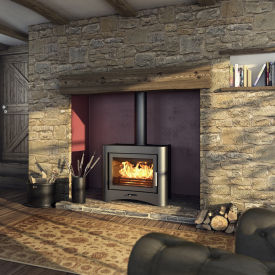 Technical Data
Height:

700mm

Width:

800mm

Depth:

592mm

Flue Diameter: 150mm
Fuel: WOODBURNING ONLY
Nominal Heat Output: 26kW
Efficiency: 78%
Most Recent Review
We had an Evolution 26 stove fitted just over 2 years ago. When we bought it, it was one of the most expensive in the show room and we were told it was possibly too powerful for our 2 bed cottage... [ read more ]

Stove expert replied: If the stove is too powerful for your property then it will not be working effectively as it has no need to! Is there an airbrick in the room? What height is the flue system? Is the wood dry and well seasoned with a moisture content of less than 20%? Has it been installed as per the manufacturers instructions? Further investigation by a qualified heating engineer who is Hetas registered is recommended to hopefully improve the performance that you are experiencing.
Most Popular Review
Great stove, used to heat a 1000Ltr accumulator tank servicing a new 200m2 house. Note this stove requires alot of wood! Also currently only stove that gets the MCS grant.
More reviews for Broseley eVolution 26 boiler stove
Had this stove fitted to a new bungalow chimney built to manufactures recommendation three years ago, this stove is the worst nightmare with smoke pouring into the room on reloading tried fitting... [ read more ]

Stove expert replied: I doubt it is the stove that is at fault but the installation that prevents the flue gases from lifting away from the firebox on opening of the door. Is there an air brick in the room? What height is the flue system and what is the construction.? Have you other flues in the property? Further investigation may improve this further as alternative remidies are normally possible once the cause if found.

This stove is unusable! The room fills completely with smoke on re filling even though the logs are blazing on the stove. I had a large air brick put in when the stove was installed. The stove... [ read more ]

We have had a evolution 26 fitted which does all are heating works really good we have 5 meters of flue liner with it, but every time we open the door to reload some wood a buff of smoke comes... [ read more ]