Broseley eVolution 26 boiler stove

based on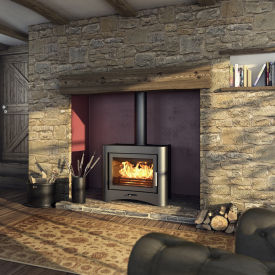 Technical Data
Height:

700mm

Width:

800mm

Depth:

592mm

Flue Diameter: 150mm
Fuel: WOODBURNING ONLY
Nominal Heat Output: 26kW
Efficiency: 78%
Most Recent Review
We had Evolution 26 installed 3 years ago and when it works it does heat water and rads well but trying to add more logs is where the problems start. When the door is open the smoke fills the... [ read more ]

Stove expert replied: These are good boiler stoves and it should perform well to heat the home and as you say when working it does this, the refuelling is the problem area - this is not a stove fault. Regarding the problem with smoke coming back into room, this is usually down to the installation / flue system. Is there enough free air in the room for combustion to occur? Is there an anti downdraught cowl fitted to the flue system? Have you another flue in the property that may have a stronger draw on it to the one being used for this stove? Access to the flue for sweeping should always be provided and this should normally coincide with being able to remove any debris from the top of the baffle plate. Perhaps looking into the complete installation before removal would be beneficial as it is a costly change that may not be totally necessary.
Most Popular Review
Great stove, used to heat a 1000Ltr accumulator tank servicing a new 200m2 house. Note this stove requires alot of wood! Also currently only stove that gets the MCS grant.
More reviews for Broseley eVolution 26 boiler stove