Bergen stove

based on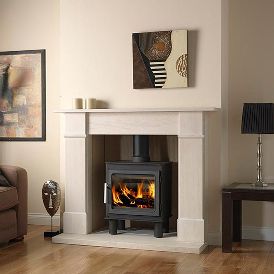 The Bergen Nordpejs stove is made from both cast iron and steel.
Self adjusting feet.
Technical Data
Height:

650mm

Width:

545mm

Depth:

390mm

Flue Diameter: 150mm
Fuel: Wood
Nominal Heat Output: 5kW
Efficiency: 84.4%
Most Recent Review
This stove looks great but is almost impossible to control. The installer has extended the insulated flue twice - now 6m long in total. I have "discovered" that you can double the draft from... [ read more ]

Stove expert replied: The two controls and how they operate are explained on page 10 of the manual. As you have another stove in the property this may be affecting the flue draw on this flue system, did the installer do a flue draw test to establish that it meets at nominal effect there should be a negative pressure of 12 to 25 Pascal. Is there an sir brick in the room? Insufficient air supply can cause down-draught and thereby low combustion efficiency and the problems that this entails: soot stains on the glass, inefficient use of the wood and a soot deposits in the chimney. These are popular stoves and the problems you are experiencing are likely to be more to do with the installation than the stove itself.
Most Popular Review
It is a lovely stove but only suitable for very good chimneys. The literature does not make this clear. I have lined my chimney but it still doesn't work, the fire goes out if the door is... [ read more ]

Stove expert replied: I am sure that there will be a way to make this stove work better! Contact a chimney specialist for further assistance as it is shame if you are disappointed. Otherwise contact manufacturer for help as to how to overcome this problem.
More reviews for Bergen stove (page 1 of 2)
1