Aga Ludlow stove

based on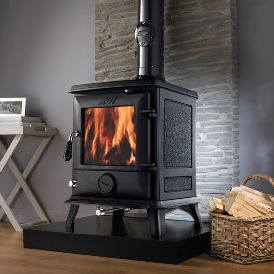 The Aga Ludlow is a 6.5Kw multi-fuel stove.
Technical Data
Height:

588mm

Width:

454mm

Depth:

456mm

Flue Diameter: 125mm
Fuel: Multifuel
Efficiency: 76.2%
Most Recent Review
However, there is a design flaw. the top baffle rests on very small shelves, meaning that the slightest touch when loading wood into the stove will make it fall down into the fire. you then... [ read more ]

Stove expert replied: The baffle plate is designed to direct the flue gases back into the firebox for a cleaner burn. It also ensures that the heat is kept in the firebox so that it can radiate more effectively into the room, should you remove this then more heat will go up the flue system leaving less for the room. It will also subject the stove top to higher than normal working temperatures.
Most Popular Review
New to stoves and did a lot of research and waiting (6 months). It came down to the choice of an Aga Ludlow or a Clearview equivalent. Will not knock Clearview as they have plenty of happy customers... [ read more ]

Stove expert replied: Sound and honest feedback of this happy customer. Good to know that Aga is still maintaining their long established good quality.
More reviews for Aga Ludlow stove (page 1 of 3)
1