Aarrow Ecoburn Plus 7 Inset stove

based on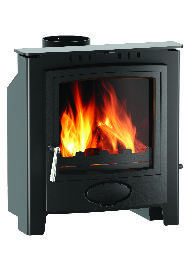 The Aarrow Ecoburn Plus 7 insert is a bigger version of the Ecoburn 5 insert.
The flexi grate design and external riddling makes for ease of use regardless of wood or multi fuel burning.
Most Recent Review
I wanted to replace my old Little Wenlock stove with a more efficient modern multi fuel burner that would fit in my small fireplace opening. This Aarrow seemed to be a good choice but I am... [ read more ]

Stove expert replied: What a shame that this stove does not seem to be producing a good heat output. Is the stove working hard and using a lot of fuel? If this is the case then the flue draw may be in excess of that which Arada specify, this needs further investigation. Have you tried smokeless fuel on the stove as this can sometimes improve the output. Does the surrounding fireplace get warm as further insulation may be required to keep the heat in the firebox and then allow for it to radiate into the room better.
Most Popular Review