Aarrow Ecoburn 11 stove

based on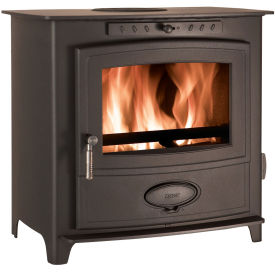 The Aarrow Ecoburn 11 is the biggest stove in this series - it has an 11kw heat output.
There is a single door on the front of the stove with 1 glass panel -
this glass has a curve to the top edge.
You can have an optional log stand or you can have a low or high canopy kit for the stove.
Most Recent Review
Heats the room very well Glass impossible to keep clean Supposed to heat 4radiators but barely does 2 When opening to refuel deposits of soot and ash very high

Stove expert replied: Depending on the radiator sizes this stove may not be able to run 4 radiators, , 4.2kW is the rated output to water. What fuel are you burning - is it dry seasoned wood with a moisture content of less than 20%? if not then the glass will be hard to keep clean. Do make sure that the air wash is kept filly open. It might also pay to try an alternative fuel as they do vary greatly in the heat that they generate.
Most Popular Review
A very good stove indeed. Yes, it IS expensive but you do get what you pay for. So what do you get? In short, an extremely heavy and very well made stove. The airwash is very good at keeping... [ read more ]

Stove expert replied: It is not good to have a large stove shut down all the time, woodburners should have to work which helps to maintain clear flues etc. If you are keeping on a low setting then twice a day you should allow a fast burn for 15 - 20 mins (Max) to burn off any tar residues that have been produced during the slow burning period.
More reviews for Aarrow Ecoburn 11 stove